ORGANIC SEO FOR LONDON
Organic Search Engine Optimisation
Organic Search Engine Optimisation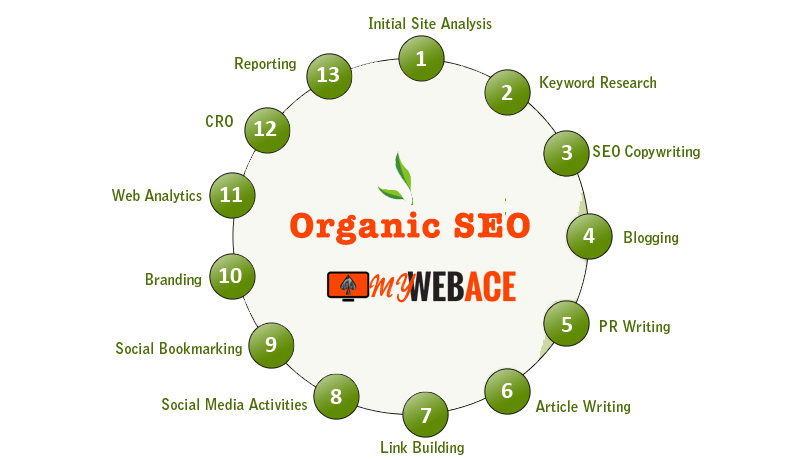 Organic SEO best practices is the way to rank on Google page one. The word 'Organic' means that something behaves in the same way as a living plant or animal, and organic Search Engine Optimization matches the behaviour of other life forms by responding to the environment. In this case, the environment is that of search engine algorithms.
At MyWebAce, we know how these SEO algorithms work, and we know what website content they're looking for. We can make sure that they'll find what they're looking for on your website for years to come and that means that your potential client sees your website before they see your competitors' websites. Isn't that why you're looking for the top SEO agency based in London?
How do search engine algorithms work?
As implied by the term used to name them, search algorithms are formulas that are used in order to create a ranking for web pages in response to the keywords entered into search by those seeking information with the help of a search engine like Google. An SEO agency Greater London can promise you the earth, but if they don't have the specialised knowledge, they won't get you the rankings.
Search engines look for indexed information on your web page and they also look at external data such as links to your site from other websites.
The evolution of search engine algorithms is continuous, and as time goes on they become ever more sophisticated. You might say 'That's clever', but it has nothing to do with intelligence – it's just a very advanced system that mimics real intelligence.
Organic SEO gets you a high search engine ranking, at least, when it's done properly. It's much more affordable than other types of marketing and advertising and it's also more durable. Choose the SEO experts in London who can make your website shine out: MyWebAce.
How do search engines rank websites Organically?
Electronic 'spiders' or 'bots' monitor the internet looking for new content. When it finds something that is new or has been updated, it indexes the information on the page. The data it gathers is archived on the search engine's servers and is then processed through an algorithm that classifies the page and assigns its value in organic search.
A lot of factors are taken into account during this process, in fact, Google claims that 200 or more factors are weighed in assigning a ranking to pages and websites.
Unfortunately, search engines closely guard the factors used in their rankings. They don't want their competitors to get hold of them and steal their competitive edge. Fortunately, our London top SEO experts has more knowledge of these factors than most people do.
Usually, the first thing the spiders find is your landing page. After that it can take a month or more before your other pages are explored and indexed. Without a bit of help from an SEO company like WebAce, some of your pages may never be indexed. If they're not indexed, the search engines can't find them, and neither can your customers.
What should I do to make my website Seo organic friendly?
MyWebAce knows just how to tell search engines exactly what your site is about and that helps it to be indexed properly. The terms or 'keywords' people use when searching for specific products or services are identified, and we ensure that they're included on your website. We also take a good look at the content no-one but the 'spider' ever thinks about.
For example, page titles, meta-tags and page descriptions are very important to your rankings.
Since a website's ability to be 'found' is all-important, it makes sense to design your entire website around SEO strategies. So what's the best SEO strategy you can apply? Choose Web Ace, the professional SEO services london! You'll be amazed at the results we get for your website.